Upholstery Cleaning Service

X-Treme at 618 944-9717 services the Edwardsville, Glen Carbon, Maryville and surrounding areas of Madison County, IL, we specialize in furniture cleaning & upholstery cleaning from training and experience.
yes, experience! every technician has hands-on training and attends upholstery schooling, this means we know the cleaning codes, and the right cleaning methods for your furniture cleaning needs, like sofas, love seats, recliners, chairs & ottomans. We have the right cleaning solution, tools, and experience to get the job done right. Call your local team!" X-Treme" servicing Madison and St Clair Counties of, IL.
Safe Furniture Solutions
Here at X-Treme not only do we care about your furniture cleaning, but we care about your family and pets, that's why we use safe products, all our products have the seal of approval from the carpet and rug institute. This means we don't make our own pre-sprays like other carpet cleaners, we're not scientists we are cleaners, and we don't mix our own concoctions up to save a buck or two. Here at X-Treme, we do it the right way, not the wrong way!
Contact XTREME for a FREE Service No Obligation Quote.
CALL US FOR A PROFESSIONAL FURNITURE CLEANING QUOTE 618-944-9717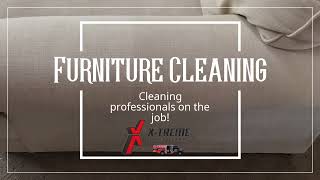 Wet Cleaning Process
Upholstery Cleaning
If your upholstery is wetly cleanable we will use an aggressive, but safe solution pre-spray over your fabric, agitate it with a soft wool hair brush, let dwell for 15 minutes, steam clean and extract with our high-powered truck-mount system. X-Treme also will towel dry your furniture, to absorb moisture and wick, this also helps with the drying time. We're sure to give you that wow effect!