Bumps? Wrinkles? Waves?
We do the heavy lifting for you!
You don't have to worry about putting out a call and waiting weeks or months only to find that the carpet installer can't come out. Or a cleaning company doesn't use wall-to-wall stretchers or has to sub out the work, is too expensive, or doesn't have the experience. We've got your back — we'll come out at no charge to you and see what we can do for your carpeted floors. We also repair, fix, and patch carpeting.

We're open!
You'll never have to worry about calling and getting no response. Our quick response time means that you won't wait weeks before someone comes out, while prices will never change with a written estimate.
Best Carpet Stretching in Southern, Illinois, & St. Louis, MO?
There's a reason why we've been in business for so long — we're the best at what we do! Not only are our prices affordable, but our service is unmatched for responsiveness and high-quality workmanship.
Carpet stretching service, Do we use wall-to-wall stretchers? Stretching your floors prolongs the life of your carpet serving Southern, Illinois, & St. Louis, MO.
Stretching your carpets prolongs the life of your carpet
Let us tighten up your carpeting floor
Are you looking for an Illinois or St. Louis company that uses a wall-to-wall carpet stretcher? Our local carpet stretching company does just that. Carpet stretching prolongs the life of your carpet, we can help with carpet wrinkles lumps, or waves. Contact us today!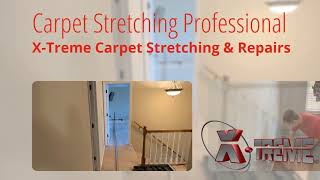 Carpet Stretching Service
Our latest Stretching photos
Carpet STRETCHING Service aREA

"Carpet stretching service locally, near me"
We're not just specialists in carpet stretching; we also offer a variety of repairing services to keep your carpets in top shape. We service a big area in the metro-east St. Louis & Illinois cities, and we take great pride in stretching carpeting to the following cities, near me: Belleville · Edwardsville · Collinsville, Maryville · Glen Carbon · Granite City · Fairview Heights · Swansea · O'Fallon · Pontoon Beach · Godfrey · Alton · Bethalto · Roxana · Troy · Dow · Jerseyville · Grafton · Brighton · Bunker Hill · New Douglas · Shipman · Cahokia · Columbia · Highland · Greenville · Marine · Caseyville · St. Jacob · Alhambra · Pocahontas · Shiloh · Hamel · Mascoutah · Holiday Shores · Freeburg · Bethalto · Smithton · Wood River · Millstadt · Brighton · Dupo · Waterloo · Bunker Hill · Lebanon · Trenton · New Baden · Staunton, also the surrounding areas of St. Clair County and Madison County of Illinois and St Louis MO.
Our latest Stretching video's
We can help your carpeting lay flat
Carpet stretching is necessary as our carpets are designed to lay flat, but sometimes they don't. We know that carpet wrinkles, and bumps can be a nuisance & trip hazard for you and your family. Let us come out at no cost to you and see what we can do.
We're the Best in Town!
Best Carpet Stretching St. Louis Metro East, IL area. X-TREME is a local company so we don't have any hidden fees and can offer an estimate for free. We also have flexible hours so we can work around your schedule.
We're local and we offer a free estimate. Were the best in town!
Location, location,
Being a locally-owned and operated company in Madison County, IL means that we are right in the heart of the Edwardsville, Glen Carbon & Maryville, Illinois community that we serve. From Collinsville high school sports teams to my grandma's dance class in Belleville in St. Clair County, IL, we will be there to provide you with the best repair service possible!
Responsiveness
X-TREME team the fiber specialist has been supplying quality carpet repair services to the surrounding Metro

East, Southern, IL communities

of "

Madison County Illinois

" and "

St. Clair County of Illinois

" & St. Louis, MO for over 15 years.
Local Carpet Stretching Company