Grout Repair & Grout Color Sealing & Sealant...... X-TREME Bring the new back!
X-Treme grout color sealing is a grout restoration color seal process that not only brings back the uniform color of a newly installed grout but dramatically improves the performance of any grout, new or old.
X-Treme uses a core color system that offers a nearly infinite palette of colors to create the perfect look for your tiled surfaces.
To keep the grout looking its best, We use fluoropolymers color sealer for soil release and aluminum oxide for durability. No other grout or grout sealer on the market today offers this combination of technology or performance
Grout Color Sealing Edwardsville, IL
Fixing a few spots of grout is hard to match with regular grout.
in this case, we can fix the grouted areas clean and color seal the whole floor making it look new and stain-proof improving the value & updated the look inside your Edwardsville, IL home.
X-TREME has the fix for your ugly cracked and stained floor grout.
Not only is cracked or broken grout in a floor unsightly, but if not repaired, it can cause damage to the floor's underlayment and possibly create the need for costly replacement of the tile.
X-Treme can Color seal the grout to change the color or the same color if preferred this will also fill small cracks. We can also re-glaze the grout making it look new.
What colors do we have we can change the color of your grout? 87 different colors to choose from and custom colors too.
Grout Color Sealant, An Easy Way To Clean

.
Our Grout Color Sealing Application Service Area
Madison County, IL
Edwardsville

Maryville

Glen Carbon

Granite City

Pontoon Beach

Godfrey

Alton

Bethalto

Roxana

Troy

Highland

Marine

St. Jacob

Alhambra

Hamel

Holiday Shores

Bethalto

Wood River
St. Clair County, IL
Belleville

Collinsville

Fairview Heights

Swansea

O'Fallon

Cahokia

Columbia

Highland

Greenville

Marine

Caseyville

Shiloh

Mascoutah

Freeburg

Smithton

Millstadt

Dupo

Waterloo

Lebanon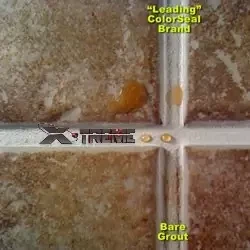 Jersey, Bond & Macoupin Counties of Illinois & Metro East, Saint Louis, Missouri

Dow · Jerseyville · Grafton · Brighton · Bunker Hill · New Douglas · Shipman · Greenville · Millstadt · Staunton, and surrounding areas of Illinois, and St. Louis, Missouri.
Call Your Grout Repair & Tile Restoration Cleaning Specialist at

618-944-9717
No Hard to Clean grout lines, just wipe
Mix the color sealer right on the spot. We also give a bottle of touch-ups.